LR-20 pump
General information
Self-suction pulling pump at the efficiency of 20m³/hour and the lifting height of 22mH2O, the pump suction height is 7,0mH2O.
The LR-20 pump is designed to work in the shortage or temporary lack in the agent. The pump can suck in the liquid from the pipeline which is filled with the liquid partially or suck in washing agents from a vessel or a device removing them during washing which prevents from sediments on the walls of washed devices.
Normal working condition is pumping the air, foam and liquid misture.
Application
Food, pharmaceutical and cheemical industries as a pulling pump in the return CIP plumbering,
Specifications
Pump LR-20 parameters

| item | unit | |
| --- | --- | --- |
| Efficiency* | [m³/h] | 20,0 |
| Lifting height* | [mh2o] | 22,0 |
| Suction heights | [mh2o] | 7,0 |
| Rotor diameter | [mm] | 250 |
| Engine type | | slg132m-4 |
| Typical current / tension | [a/v] | 14,4/400 |
| Engine power | [kW] | 7,5 |
| Engine revolutions | [min-1] | 1455 |
| weight | [kg] | 122,0 |
* Values for clean cold water
The pump LR-20 general characteristics
LR series pumps have monolithic compact design where a specifically designed engine roller is the base for the rotor and the stator keeps the pump trunk. The engine trunk is screwed into the bottom being equipped with for spherical legs being used for leveling and placing the pump. The pump does not need additional foundations. The engine shield protects it during washing accessory devices as well as the room. The LR pump is the variant of centrifugal return pump working on the centrifugal liquid ring principle. The pump enables to pressure air-containing and froth liquid.
Leaving the pumped agent leftovers in the trunk make product applications impossible.
The pump is able to work when there is a need to cut the agent off when the suction is still present.
Make: stainless steel 1.4301
Roller sealing: front, mechanical as graphite ring / silicon carbide +epdm.
LR-20 pump dimensions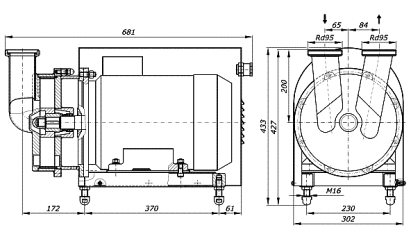 LR-20 pump section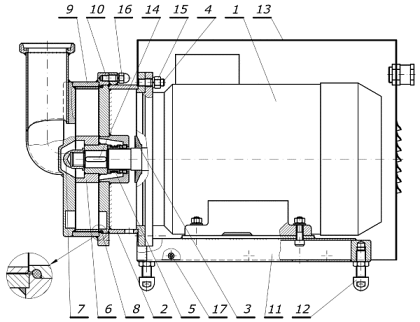 | No | Component name | Pieces |
| --- | --- | --- |
| 1 | engine. SLg132M-4 7,5 kW, 1455 rpm | 1 |
| 2 | Pump trunk | 1 |
| 3 | Slip o-ring | 1 |
| 4 | M12 double screw | 4 |
| 5 | Front mechanical sealing | 1 |
| 6 | 250 type rotor | 1 |
| 7 | Hub nut | 1 |
| 8 | Trunk sealing | 1 |
| 9 | Outside trunk | 1 |
| 10 | M10 double screw | 8 |
| 11 | pump bottom | 1 |
| 12 | spherical leg | 4 |
| 13 | engine shield | 1 |
| 14 | A6x6x20 prism joint | 1 |
LR-20 pump characteristics