GU-14 pump
General information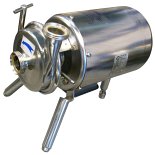 click on image to enlarge
Application
The GU-14 pump is designed for transporting condensed food liquids with a dry substance content up to 50%, or other food products of similar properties and a temperature up to 95°C.

condensed milk
cream
juice
syrup
pomace
brine
acids and alkalis *

It can be washed as part of other machines and devices.
*after material set is agreed on
General characteristics
The GU-14 pump is a centrifugal pump and, together with its motor, is constructed as a closed, monolithic structure with a tripod as a base. The pump rotor is mounted on the extended motor shaft.
Pump components having contact with the medium pumped are made of AISI 316 acid-proof steel and of AISI 304 steel for the remaining parts.
Shaft sealing: double end-face mechanical - with the washing liquid (water), or single; the sealing material selected to the medium pumped.
The following advantages are worthy of notice: user-friendliness, low energy consumption, hygiene by design, easily washable components, and transportability (does not require a base). The pump has of long service life and is reliable. On the pump outer body, fixed with a clamping ring, are two Rd connector pipes with an external thread designed according to DIN 11851, or connector pipes for clamp connections.
Free turning of the body is an advantage (it is possible to position the pumping connector pipe horizontally at the bottom).
All legs are adjustable and they allow the pump vertical axis to be positioned up to the height of 250 mm.
The pumps are certified for use in the food industry, and have a declaration of conformity issued and CE certification.
Specifications
The GU-14 pump parameters

| Characteristic | units | GU-14 |
| --- | --- | --- |
| capacity* | [m³/h] | 14,0 |
| lifting height* | [mH2O] | 23,5 |
| maximum suction height* | [mH2O] | 9,0 |
| temperature of pumped liquid | [°C] | 95 |
| rotor diameter | [mm] | ø145 |
| drive motor type | - | SKg90L-I-M |
| rated current/voltage | [A/V] | 4,6/400 |
| motor power/rotation of engine | [kW/min-1] | 2,2/2870 |
| mass | [kg] | 39,0 |
Overall dimensions of the GU-14 pump
The GU-14 pump intersection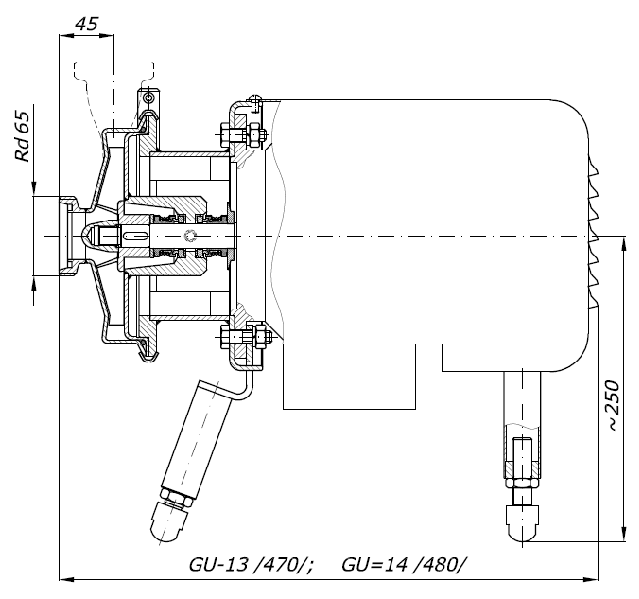 The GU-14 characteristics