GU-15/4 pump
General information
Pumping capacity of 14,0m³/h, with a lifting height of 42mH2O and drive power required of 4,0kW.
The single stage GU-15/4 pump replaces the two-stage GU2-13 and GU2-14 type pumps produced by Spomasz Zamosc S.A.
Two versions with different parameters are available: the GU-15 (with the 6.0 kW motor) and GU-15/4 (with the 4.0 kW motor).
The pumps have been designed to the current requirements for food industry applications.
The GU-15/4 pumps are all made of acid-proof steel: the pump bodies and all parts are made of 1.4404 (316L) steel, the inner surface roughness is ≤0.8µm, and the components inside the body, including the seal, are washable.
Thickness of the materials used is min 5.0mm.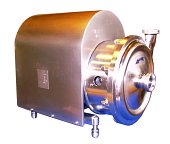 click on image to enlarge
Application
The GU-15/4 pump is designed for transporting non-condensed or condensed food liquids with a dry substance content up to 50%, or other food products of similar properties and a temperature up to 95°C. Due to the high overpressure produced by the pump, it may be used to forcing media through plate or tube heat exchangers, or other devices of significant resistance.
The pump may be used in systems where food safety is crucial.
The pump may be used for:
transporting food liquids of viscosity up to 1000 cP,
dairy industry (milk, both fresh and pasteurized, whey, and liquid ice-cream mixes),
fruit-and-vegetable processing (thick juices, clarified juice, juices with fibre, fruit beverages, vegetable beverages, wines and fruit liqueurs),
distilling of alcohol (cereal mash and spirit products),
pharmacy,
pumping basic media in food industry (water, hot or cold purified water),
CIP system washing liquids,
other liquids
*after material set is agreed on
General characteristics
The GU-15/4 is a centrifugal pump and, together with its motor, is constructed as a closed, monolithic structure mounted on 4 ball-shaped legs, adjustable to make levelling of the pump possible.
The pump rotor is open and mounted on the extended motor shaft. The outer body is mounted using dome screws on the pump body. There is an O-ring placed between the outer body and the pump body, so that it is possible to wash it using the CIP system.
The outer body and the pump body are made of steel sheet 5.0 mm thick, specially shaped using plastic forming to achieve pump durability and reliability.
Rd connector pipes with an external thread designed according to DIN 11851.
Pump components coming into contact with the pumped medium are made of AISI 316. (1.4404) acid-proof steel and of AISI 304 (PN-EN 1.4301) steel for the other elements, like the casing or the base.
Shaft sealing: double end-face mechanical - with the washing liquid (water), or single; the sealing material selected to suit the medium pumped.
Sealing sets available for the standard version:
Rubbing couples:
impregnated carbon/silicon carbide,
silicon carbide/silicon carbide,
impregnated carbon/ceramic.
Rubber materials:
Ethylene propylene EPDM
Fluoroelastomer (VITON)
Nitrile (NBR)
Other sealing materials available by request.
Advantages, certificates
The following advantages of the pump are worthy of notice: user-friendliness, low energy consumption, hygiene by design, easily washable components, and transportability (does not require a base).
The pumps are certified for use in the food industry, and have a declaration of conformity issued and CE certification.
Specifications
The GU-15/4 pump parameters

| Characteristic | units | |
| --- | --- | --- |
| capacity* | [m³/h] | 14,0 |
| lifting height* | [mH2O] | 42,0 |
| maximum capacity* | [m³/h] | 17,5 |
| minimum lifting height* | [mH2O] | 40,0 |
| rotor diameter | [mm] | 190 |
| drive motor type | | SLg112M |
| rated current/voltage | [A/V] | 7,8/400 |
| motor power | [kW] | 4,0 |
| rotation of engine | [min-1] | 2915 |
| mass | [kg] | 71,0 |
* The values are for clean cold water.
Overall dimensions of the GU-15/4 pump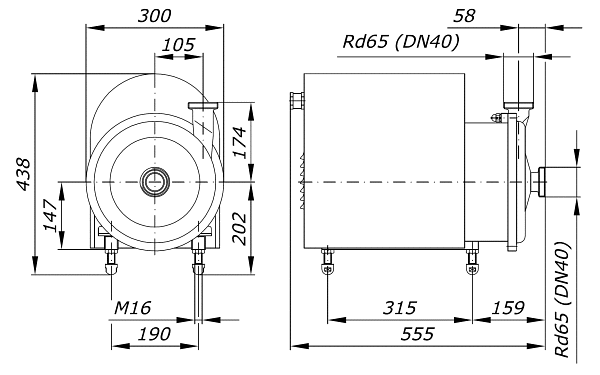 The GU-15/4 pump intersection - single sealing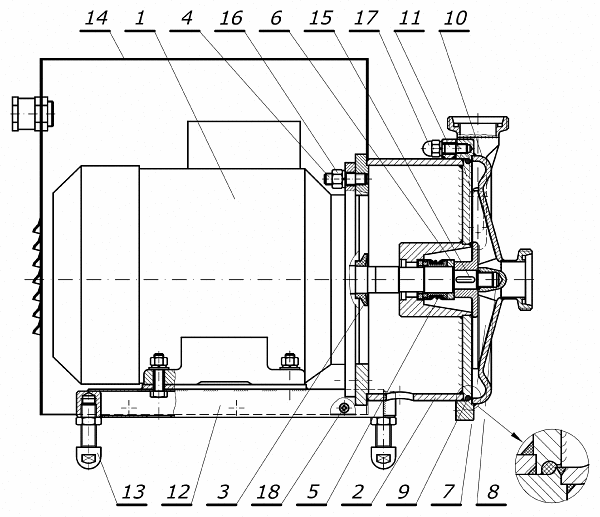 | No. | Part name | Amount |
| --- | --- | --- |
| 1 | Electric motor SLg112M-2 4,0 kW / 2915 rpm | 1 |
| 2 | Pump body | 1 |
| 3 | Thrower ring | 1 |
| 4 | Distance rings - set | 1 |
| 5 | Rear end-face seal | 1 |
| 6 | Stud-bolt M12 | 4 |
| 7 | Front end-face seal | 1 |
| 8 | Rotor ø190 | 1 |
| 9 | Dome nut | 1 |
| 10 | Body sealing | 1 |
| 11 | Outer body | 1 |
| 12 | Stud-bolt M10 | 8 |
| 13 | Pump base | 1 |
| 14 | Ball-shaped leg | 4 |
| 15 | Engine casing | 1 |
| 16 | Pipe ø10x150 | 2 |
| 17 | Parallel key A6x6x20 | 1 |
The GU-15/4 pump characteristics